How long after an Easter chocolate-binge should I see my dentist?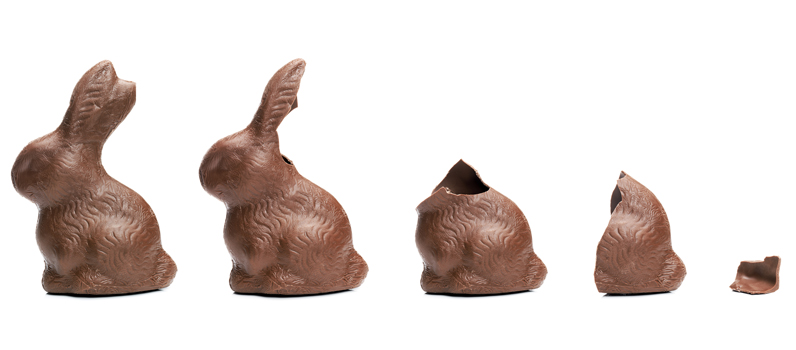 As a father of two, I'm not in the business of telling you what you can and can't eat, especially as part of Easter celebrations. But as a seasoned Prosthodontist, I have seen my fair share of rotten teeth and cavities and other dental disasters. I have helped restore many patients back to dental health over the last 15 years and I am acutely aware of the importance of strong, sound, healthy teeth.
In recent months the intake of foods high in sugar has prevailed as the villainous cause of obesity, instead of foods high in fats. So it will come as no surprise to most of us that consumption of sugary foods impacts more than just our waistline: it is also the biggest cavity causing culprit.
Chocolate, lollies and sweetened fizzy drinks are just some of the foods and beverages high in sugar, which happen to be in surplus around any festive period. And Easter of course is no exception.
So for those of us who like to indulge in a sugary treat or two at Easter, what is the best way to prevent cavities?
The professional recommendation is to do the following:
Consume chocolate with a non-sugary beverage and avoid constant snacking on chocolates
Limit chocolate intake to your main meal times or get it over and done with in one sitting. 🙂
Rinse with water
Brush and floss your teeth after eating chocolate
Try to eat dark chocolate and steer clear of chewy candy, and sticky caramel filled chocolate options
Visit your dental hygienist for a check-up, maybe make your appointment within 6 months after Easter
Maintain regular check-ups, ideally combine this with your hygiene visit every six months
This was posted by:
Dr Markijan Hupalo – Prosthodontist
Originally from Brisbane, Dr Hupalo is a Sydney-based Prosthodontist. He obtained his primary degree from Queensland University and graduated with Honours in 1988. He commenced his dental practicing career as a Dental Officer with the Royal Australian Air Force, where he worked for almost ten years. In 1996 he completed his military service and returned to Sydney to begin specialist training in 1996. He gained specialist registration in 1999 after graduating from the specialist clinical training programme in prosthodontics at the University of Sydney. He has a specialist private practice in Sydney with an international reputation for quality dental solutions and patient care. Apart from the traditional dental restorative solutions, Dr Hupalo has a special interest in adhesive dentistry and conservative dental solutions. Dr Hupalo holds a teaching appointment with the University of Sydney and is involved in Prosthodontic education at the undergraduate and post graduate level.  He is an advisor to tertiary institutions, industry and is a consultant to the legal profession. Visit:

 www.sydneyprosthodontics.com