The thirteen dental specialities: what do they actually do?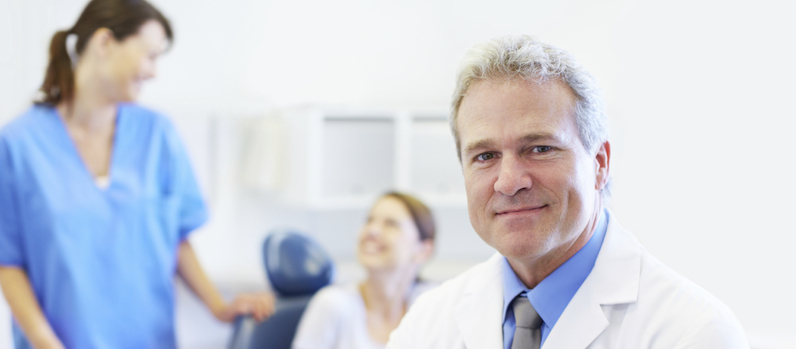 Did you know, that like medicine, dentistry also has its own specialists. There are thirteen recognised dental specialties in Australia and each specialty focusses on a very specific set of dental treatments.
Your general or primary care dentist completes the equivalent of at least 6 years of University based training and on graduating, is fully licensed to do any dental procedure.
So what would possess some of these dentists to go back to school for a minimum of 3 more years, spending over 3,000 additional hours of focused training to specialise in one of these thirteen dental specialities?
The answer – because it makes a huge difference.
Dental specialists undergo a further three years of full time study on top of the original six years it takes to become a dentist.  Some specialties require a further 6 years of study. This extra training makes them experts in their chosen field. Most patients are referred by their primary care dentist.  Because of their extra training, Specialists tend to treat and  manage challenging, intricate and complex cases. 
For someone to use the title of specialist they must be registered in their chosen specialty with the Dental Board of Australia and receive accreditation through the Australian Dental Council.
So if you are contemplating extensive and expensive dental treatment, think about seeing a specialist for an opinion. You only have one set of teeth and they play an important role in your life.
Thirteen  dental specialties? Do you know what they do?
Prosthodontics
– specialise in the restoration and replacement of teeth and they focus on the aesthetic and overall function of the teeth. Prosthodontists are experts in reconstructive dental work, complex care management, cosmetic dentistry and teeth replacement including crowns, bridges and full or partial dentures and dental implants. While many general dentists advertise as being able to perform these complex procedures, unless they are registered as Prosthodontists, they do not specialise in this field of dentistry.
MORE
Periodontics
 – of Greek origins –  
Peri-
meaning "around" and
odous
meaning "tooth" explains why Periodontists deal with the supporting oral structures around the tooth, including the gums, and bone. They are specialised to surgically treat diseased gums, perform gum grafts and dental implant procedures.
MORE
Endodontics
– in Greek 
Endo-
 means "inside" and 
odont-
 means "tooth" so it makes sense that Endodontists deal with the study and treatment of the dental pulp, the bit in the centre of the tooth that is made up soft connective tissue and nerves. Endodontists are focussed on the cause, diagnosis, prevention and treatment of the dental pulp and therefore specialise in performing endodontic therapy ("root canal therapy") as well as procedures such as treating dental trauma and cracked teeth. 
MORE
Oral & maxillofacial surgery
 – recognised as a specialty of medicine and dentistry in some countries, in Australia the requirements for registration include a medical degree and full registration as a medical practitioner. Oral & maxillofacial surgeons specialise in performing surgical procedures and treating diseases, injuries and defects in the Oral (mouth) and Maxillofacial (jaws and face) regions including the head and neck.
Orthodontics
 – was the first dental specialty and is commonly thought of as the specialised dentist to apply braces. Orthodontists deal with the diagnosis, prevention and correction of crooked teeth and misaligned jaws and help their patients achieve an optimal occlusion (contact between upper and lower teeth) and smile.
Oral Medicine
 – is the field of dentistry concerned with the oral health care needs of medically compromised patients. They are experts in the non-surgical management and treatment of the full-spectrum of oral diseases.
Oral pathology
 – deals with all types of diseases of the mouth. They focus on the diagnosis and study of disease origins and outcomes concerning the Oral and Maxillofacial regions. General dentists may refer you to or send off your biopsy to an Oral pathologist for expert diagnoses.
Dento-maxillofacial radiology (DMFR)
– also referred to as Oral-maxillofacial radiology or Oral radiology, DMFR was recognised as a specialty in 2003. Dento-maxillofacial radiologists are experts in diagnosing facial structural abnormalities. They deal with using advanced techniques and methods to perform, examine and interpret diagnostic images of the maxillofacial region (jaws and face).
Forensic odontology
 – commonly known as Forensic dentistry, Forensic odontology is a specialised field within dental science which involves the examination and identification of dental evidence for the purposes of law and justice. Other areas of Forensic odontology are emerging and expanding as technology advances.
Oral surgery
 – This was the original  surgical specialty. It has since been replaced by Oral and Maxillofacial surgery. Specialist in Oral Surgery are today limited to dental extractions and minor surgical procedures. There is no current approved program for this specialty in Australia so applications can only be accepted from overseas trained specialists in this specialty.
Paediatric dentistry
 – is the discipline of dentistry that primarily deals recognising and treating oral and dental issues specific to children. Paediatric dentists specialise in preventive therapies and oral health care of children from birth to adolescents.
Special Needs Dentistry
 – is an area of dentistry that specialises in the oral health care of individuals who require special needs from a diverse cross-section of our community including people with intellectual disabilities or medical, physical or psychiatric issues.
Public health dentistry
 – also known as Community dentistry, Public health dentists focus on providing and achieving the best possible dental health care for their communities.  Public health dentists focus on education and encouraging communities to implement improved oral health practices and policies.
To find out if your dentist is a qualified specialist, visit the Australian Health Practitioner Regulation Agency (AHPRA) at www.ahpra.gov.au/registers. Navigate to Registers of Practitioners and search the database for your dentist. Here you will find details of your dentist's qualifications and registration.
This was posted by:
Dr Markijan Hupalo – Prosthodontist
Originally from Brisbane, Dr Hupalo is a Sydney-based Prosthodontist. He obtained his primary degree from Queensland University and graduated with Honours in 1988. He commenced his dental practicing career as a Dental Officer with the Royal Australian Air Force, where he worked for almost ten years. In 1996 he completed his military service and returned to Sydney to begin specialist training in 1996. He gained specialist registration in 1999 after graduating from the specialist clinical training programme in prosthodontics at the University of Sydney. He has a specialist private practice in Sydney with an international reputation for quality dental solutions and patient care. Apart from the traditional dental restorative solutions, Dr Hupalo has a special interest in adhesive dentistry and conservative dental solutions. Dr Hupalo holds a teaching appointment with the University of Sydney and is involved in Prosthodontic education at the undergraduate and post graduate level.  He is an advisor to tertiary institutions, industry and is a consultant to the legal profession. Visit:

 www.sydneyprosthodontics.com